Achievements of Chinese-Americans in Arizona History (3)
Outstanding Chinese-Americans Historical Leaders of Arizona
Article by Homer Zhang
1. Prominent Chinese-American in Arizona History Dea Hong Toy (關崇瓊)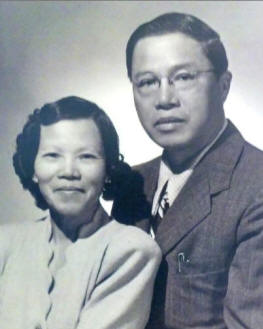 Mr. and Mrs. Dea Hong Toy
D.H. Toy was the first Chairman of Chinese United Association of Greater Phoenix and founder of Lung Kong Family Association of Phoenix and an early entrepreneur. His family contributed greatly to the local Chinese community. Interviews with sixth daughter Violet (Guan Libi) and eleventh daughter Shirley (Guan Xiuyu) provided much valuable information. This photograph and information had not previously been divulged, enabling more knowledge and understanding of early Chinese history in Phoenix.
D.H. Toy was born on November 9, 1893 in Kaiping, China. On October 9, 1909, sporting a Qing dynasty pigtail and not yet seventeen years old, he used the false name "Xie Hongxing" and came to Phoenix as a "paper son." As the Chinese Exclusion Act was in force at that time, only a few Chinese using "paper son" documents were able to use family relations to come to America. He worked as a dishwasher at the earliest Chinese owned and operated American Kitchen, struggling to earn fifty cents a day.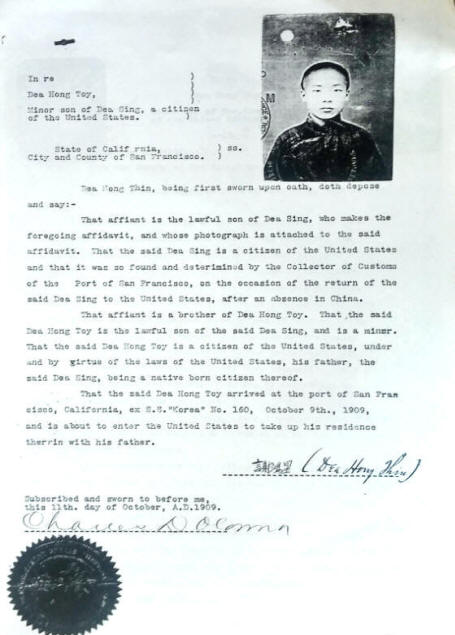 In 1915, D.H. Toy was one of two Arizona Chinese drafted into World War I and retained a photograph of him in an Army uniform. After completing basic training in New York, D.H. Toy was sent to the European theater in October 1917 with the 164th Infantry Regiment. He posted to Metz, and in 1919 was wounded in Nice.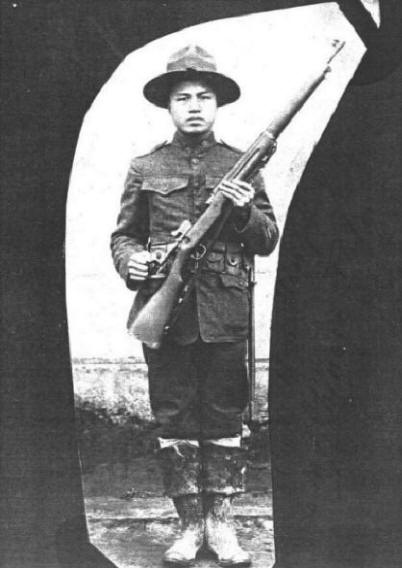 He said war was very cruel and a soldier's life was very lonely. He knew a lot of comrades who never received letters from home. A memorable event was that on Christmas Eve, some comrades shared their letters from home. After the war, he joined the American Legion and was Arizona's first Chinese recipient of the Purple Heart .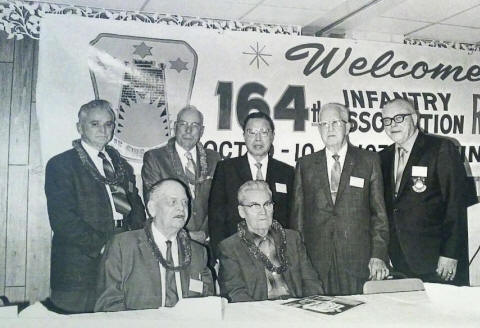 The above photograph is of D.H. Toy's 164 Infantry Regiment reunion.
After great effort, hardship, and endurance, he became a Chinese entrepreneur and one of the twentieth century's earliest storekeepers. His Toy's Grocery sold meats, vegetables, fruits, sodas, kerosene, etc. In the 1930's, he opened Toy's Market. These valuable historical photographs display Phoenix Chinese early style.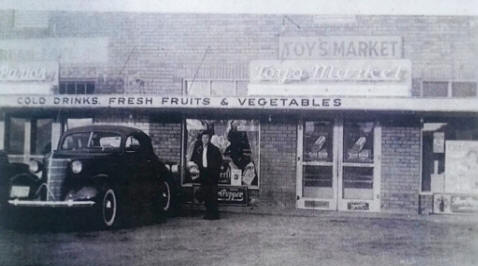 In 1950, D.H. Toy opened Phoenix's largest Chinese restaurant on Camelback Road and 16th Street, Toy's Shangri-La, which covered 10,000 sq.ft. and seating for 450. It offered high-quality service, and many of its customers were not Chinese. The dinnerware was specially ordered from Los Angeles. Toy's Shangri-La was favored by traditional Chinese families, and besides wedding banquets, it was the place for annual Chinese New Year banquets for the Yee Fung Toy, Lung Kong Family Association, and other Chinese groups. At that time it was the most scenic Chinese place in Phoenix.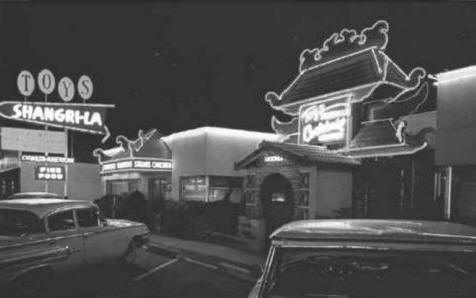 The Positive Contribution of D.H. Toy Family to Society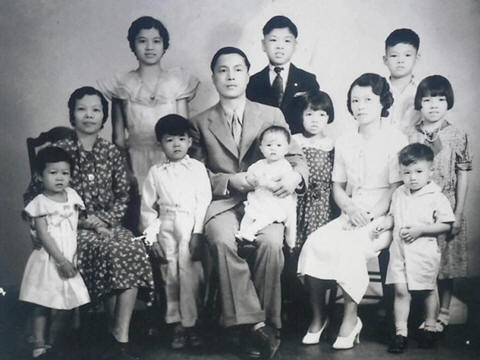 D.H. Toy had a large family of eleven children and loved each other. Their legacy greatly influenced and contributed to the local Chinese community.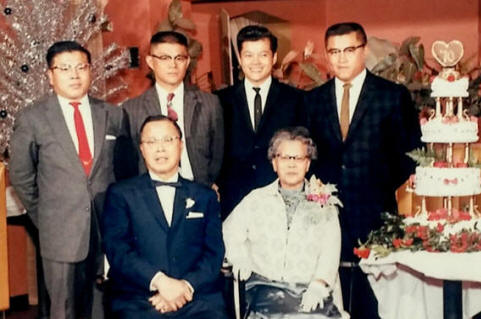 Mr. and Mrs. D.H. Toy and their four sons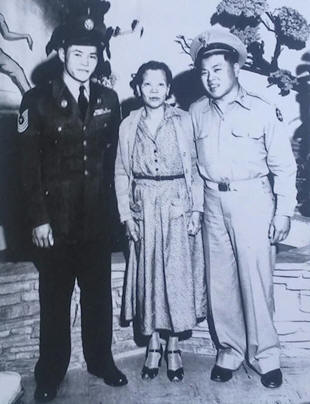 Between her two sons stands a brave mother. D.H. Toy's eldest son William and second son Grey encountered World War II's baptism of fire and received many honors.
Eldest son William K. Toy joined the U.S. Army in 1940 and underwent training in Oklahoma and Texas. In 1942 he was sent to Panama and then to China via North Africa and the Persian Gulf. From 1943 to 1944 he returned to India to train Chinese troops. Afterwards he returned to headquarters in northern Burma and with the Chinese fought the Japanese, earning the Asian-Pacific Campaign Medal and World War II Victory Medal as well as five other awards. Serving twenty years, he achieved the rank of Lieutenant-Colonel and was the highest ranking Chinese-American veteran. He was assistant professor of military science at Phoenix Union High School ROTC and Commander of American legion Post 50 as well as Arizona Bushmasters Regimental Combat Team Chapter President.
Second son Grey Toy enlisted in the US Army Air Corps in 1942, served in special operations and specialized in aiming and guidance systems. In January of 1943, he went to Wright-Patterson AFB in Ohio to train in aircraft guidance, bombing, and auto-pilot systems. In 1943 he was posted to North Africa. From 1944 until December 0f 1945, he served in China in the 14th Air Force (Flying Tigers) and the XX Bomber Command to fight the Japanese aggressors, earning the European-African- Middle Eastern Campaign Medal, and five other awards.
In the early years of the Second Sino-Japanese War, China's situation was extremely desperate. The war material purchased from various foreign countries could not counter the Japanese aggression. The Chinese Air Force suffered great losses. After the Pearl Harbor attack, the United States declared war with Japan and became a Chinese ally. America trained Chinese military personnel, and Arizona was a prime training site. D.H. Toy's daughter provided much information during an interview, including a photograph of "Second Graduation of Chinese Air Force Personnel, " taken on May 15, 1942 during China's most difficult wartime. These trainees returned to China and joined the Flying Tigers' flying and ground-based personnel.
According to sixth daughter Violet Toy, as a renowned resident, her father D.H. Toy earnestly supported the war effort and invited these Chinese trainees to their home to enjoy the sweet-smelling company of his daughters.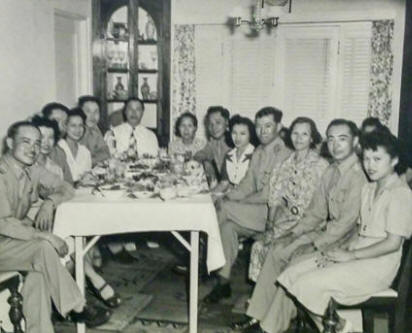 Some Chinese trainees even gave the Toy family photographs of the wartime activities, including Madam Chiang Sung Mei-ling's visit to the United States, photographs which hitherto had not been publicized.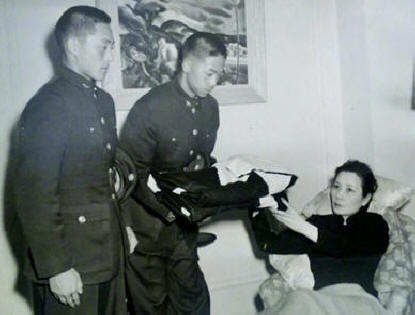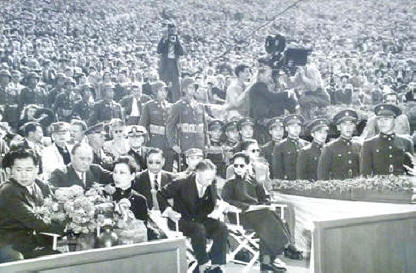 On August 15, 1945, Japan unconditionally surrendered, pleasing all the world. The Toy family participated in a parade celebrating the World War victory. This photograph shows the Toy family car driven by D.H. Toy himself, decorated with red, white and blue streamers and daughters beautifully made-up and holding US and Chinese flags.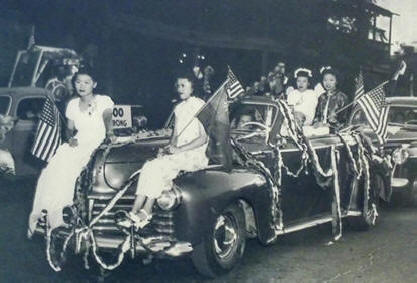 D.H. Toy's family registry includes nephew Wing Yip Quan, who was a US Army paratrooper who participated in the Normandy D-Day landing and earned four medals. Wing Yip was the father of former World Lung Kong Association Donald Quan. In addition, D.H. Toy's grandnephew was D.Y. Quan, who also earned four medals with the US Navy. He was skilled in billiards, and in 1972 was West Coast United States champion for two consecutive years. This recognition garnered much respect for Chinese veterans. D.H.Toy's granddaughter Patti Toy was Miss Phoenix Chinese for 1974.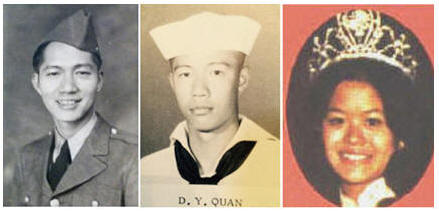 D.H. Toy's nephew Wing Yip Quan, Grandnephew D.Y Quan, Granddaughter PattiToy Miss Phoenix Chinese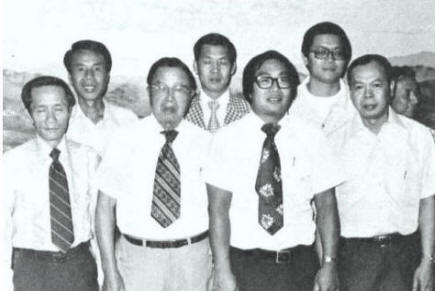 D.H. Toy (front, second from left) was founder of Lung Kong Association Phoenix Chapter
The Toy family has now grown to two and three hundred members now and become outstanding in every endeavor in the United States and worldwide. When Chinese United of Greater Phoenix was established in 1968, D. H. Toy was elected as the first president. In 1972, he became founding member and president of the Lung Kong Association Phoenix chapter, but unfortunately passed away soon after.
The author visited the Toy family three times and recorded and photographed much historical information to record the history of this heroic family.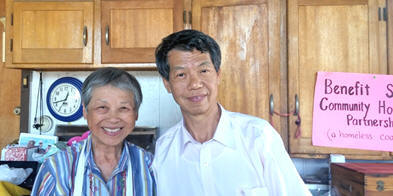 Visit with D.H. Toy's daughter Shirley Toy at benefit for homeless in 2016.
2. The first Chinese- American Congressman Wing F. Ong ​​(鄧悅寧)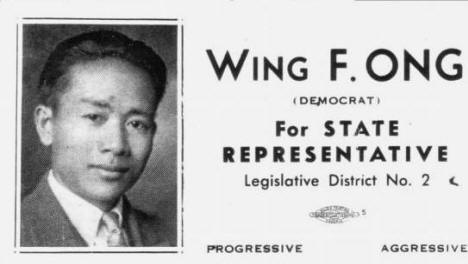 Wing F. Ong Run for the House of Representatives of Arizona (1940'S)
Wing F. Ong (鄧悅寧), also known as Rongxun Deng (鄧榮勳), was born in Yongan Li village, Kaiping County, Guangdong Province, China, on February 4, 1904. During the Gold Rush in the second half of the 19th century, Wing's grandparents came to California where his father, Daolong Deng (鄧道隆) was born. Due to the "Chinese Exclusion Act" passed by the U.S. congress in 1882 to prohibit the entrance of Chinese laborers into U.S., Daolong Deng (鄧道隆) had to go back to China and married a woman with the surname Huang (黄). Daolong Deng (鄧道隆) returned to U.S. when his son Wing F. Ong (鄧悅寧) was two years old. Under the age of 15 in 1918, Wing boarded a ship bounding for San Francisco in the city of Guanzhou. He waited on tables on the ship and experienced pitch and roll on the Pacific Ocean for over three weeks. Finally, Wing arrived in San Francisco in January 1919 and unexpectedly received humiliating treatment at the Angel Island Immigration Station. According to the "Chinese Exclusion Act", Chinese immigrants had to go through interrogation when entering the United States. The so-called "Angel Island" at that time was a small island in San Francisco Bay, where the immigrants from China and other Asian countries received immigration eligibility screening and quarantine examination. The interrogation procedure ranged from a period of two weeks to over two years, and the supposed immigration station was actually a detention station. It was built of wood and fully packed with new immigrants, who were treated with foul food, but without bathroom and toilet. They also had to take nude examination and be subject to deportation to where they were from once infectious diseases were found. The interrogation process was full of discrimination and stigma and so intolerable that many immigrants committed suicide in despair. Wing endured a life of confinement for three months on the island prior to being allowed to leave after his father made attempts. Wing's life on the Angel Island, tantamount to prison life, left an unforgettable imprint in the depth of Wing's soul, and made him realize the evil decree of racial discrimination was the root of immigrants' suffering.
Wing then started to work at a grocery store and later at a laundry in San Francisco. When he got his residency, Wing wanted to go to the public school, but was rejected because of a California special regulation, banning people who did not speak English from attending public schools. Wing had to leave San Francisco and came to Phoenix with his uncle Henry Ong (鄧亨利). He began to work part time and study English in a public school there. Wing cherished the opportunity and completed the eight-year elementary curriculum in four years; likewise, Wing completed the three-year high school curriculum in two years. During high school, Wing got an unexpected opportunity that he was introduced by his schoolmate to work as the housekeeper for Governor Campbell. Wing managed the housework in good order and was liked by the Governor couple for his cleverness and diligence. Wing learned a lot about politics and political debate from Governor Campbell. His English was also improved quickly. Wing had participated in the student essay competition held that year in Arizona, and won the championship prize. The part-time housekeeper experience helped Wing gain a preliminary understanding of politics, but Wing wanted to get more education.
In the fall of 1925, Wing went to Tucson and studied at the University of Arizona. Unfortunately, he had to drop out due to financial difficulties, and returned to Phoenix attending the University of Phoenix. In1928, Wing's uncle Henry Ong (鄧亨利) and his fellow partners purchased a grocery store from the owner in debt and going bankrupt. Wing was invited to manage the store. Wing took out his $380 saving and invested as capital, and became one of the grocery store owners. In the meantime, Wing married to a female Chinese immigrant named Rose Huang (黃玫瑰). Thereafter, the couple managed the grocery business with honesty, and the business was increasingly prosperous. Wing repaid the debt in just two year. Two more years later, Wing's grocery business went from retail to wholesale and the business was getting more prosperous. Wing thus became well-known among the local business colleagues.
In 1939, Wing started to participate in social activities. He organized and founded the Phoenix Chinese Chamber of Commerce, and was elected the first president for the organization.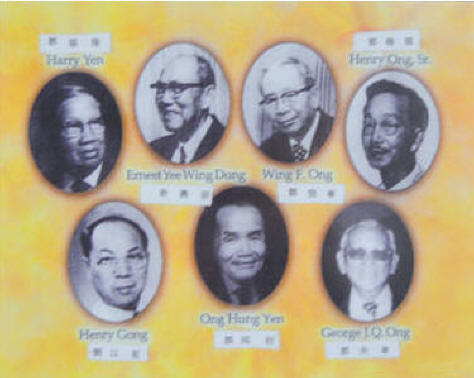 In 1940, Wing decided to enter politics. He joined the Democratic Party and run for the Arizona House of Representative for the first time. Due to the lack of experience, he lost by a margin of 17 votes. Wing was not discouraged. He once again went to the College of Law at University of Arizona, and completed the law program that would require 7 years for an average person to finish. Wing obtained a Bachelor of Law and passed the Arizona bar exam. Wing set up the first Chinese-American law firm in Arizona, and became one of the eight Chinese-American lawyers in the United States at that time. In 1946, 42- year- old Wing decided to run for the Arizona House of Representative again. His campaign slogan, "Give the person who knows the law a chance to participate in politics," and his campaign speech, in Spanish in addition to Chinese and English, won him the votes from Americans and Hispanics/Latinos, Chinese and other Asian immigrants. Wing was finally elected and became the first Chinese-American State House Representative who was not born in the United States.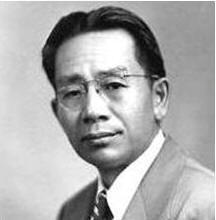 Elected as the State House Representative, Wing studied the U.S. immigration law in particular, and analyzed the unreasonable legislation article by article. Wing made extensive contacts with American lawyers in various practices, and actively urged the revision of the irrational, inhumane and anti- Chinese legislation to reflect the principles of freedom, equality and the rule of law. Wing's proposal was looked at by the U.S. State Department ad hoc group, supported by the court, referred to the parliamentary hearings, and finally passed by following the legal procedures. As Wing F. Ong (鄧悅寧) succeeded in his painstaking pursuit for modifying the immigration bill in 1952, the U.S. Immigration and Naturalization Service finally abolished the border entry interrogation, confinement, and other inhumane practices against Chinese immigrants, and allowed Chinese to apply for immigration with their spouses. Wing thus has been commended as the fighter for urging the United States to modify immigration laws. Due to hi significant achievements, Wing had twice been re-elected as State House Representative. In 1966, he was elected Arizona State Senate. Wing, active in Arizona politics for 28 years, was embraced and praised by both the overseas Chinese and Chinese-Americans in Arizona.
On December 19, 1977, Wing F. Ong (鄧悅寧) died at the age of 73 in Phoenix, Arizona. In 1983, Arizona State University Professor Dr. Nagasawa wrote a book about him in the title of "Summer Wind: the story of an immigrant Chinese politician" with forewords by Senate Barry Goldwater and Governor Bruce Babbitt. In recognition of Wing's outstanding accomplishments in Chinese politics and maintaining immigrant rights, the National Asian Pacific American Bar Association awarded the "Annual Forerunner Grand Award" to Wing, the first Chinese-American who served first as State Representative and then State Senate in American history, at its annual meeting in Chicago in October, 2005. History will always remember this outstanding Chinese-American forerunner in politics.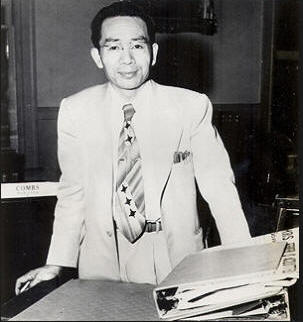 3. United States Court of the Ninth Circuit Judge Thomas Tang (鄧心平)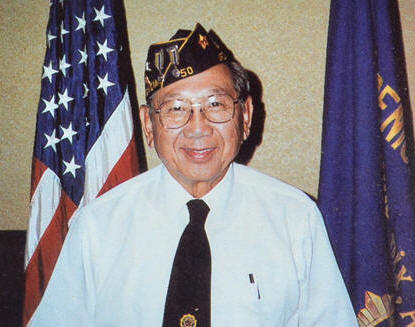 Thomas Tang (鄧心平)
Thomas Tang was born in Phoenix on January 11, 1922 and attended public school when young. After World War II began, he enrolled in ROTC training at the University of Santa Clara in California. In May of 1943, he was recalled to active duty at Monterey, CA , took basic training at Ft. Bragg, North Carolina, and officer training at Ft. Sill, Oklahoma. He was sent to Chinese language school for four months at the University of California, Berkeley. In May of 1945 he was posted to the Far East and based at Kunming, China, in the China-Burma-India theater of operations as a combat liaison officer to train the Chinese. On September 15, 1945, after the war ended, he was a US Army administrative officer with the Army engineera at the Headquarters China Service Command. He was recalled to active duty in March of 1951 for the Korean War. In August of 1946 he resigned his commission to continue his education and in 1947 graduated from The University of Santa Clara. He then earned a law degree from the University of Arizona and was one of only three Chinese lawyers in Arizona.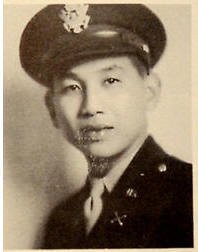 Thomas Tang ( US Army )
In 1952, Thomas Tang served as Deputy County Attorney for Maricopa County and as Assistant Attorney General for Arizona in 1956. From 1960 to 1962, he served on the Phoenix City Council and in 1962 was Vice Mayor. In 1962 he became a Superior Court Justice, and in 1977 he was selected Chairman of the Arizona Bar Association. President Jimmy Carter appointed him to the Ninth Circuit Court in 1977, where he served for 16 years. People considered him to be calm and gentlemanly, and he advocated development of civil and minority rights. He authored 400 opinions on Indian laws, labor rights, and other problems.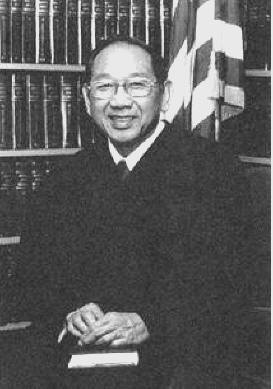 Thomas Tang's position in the federal judiciary has never been surpassed by any Chinese-American
Thomas Tang was the first federal judge in the United States. As a judge he was impartial in enforcing the law and protected the rights of Chinese. He had a deep understanding of abiding with the law and problems of discrimination as seen from his letter.
In a letter congratulating the 1978 Phoenix United Chinese Association's Fourth of July Celebration , he wisely noted that the struggle for freedom and democracy is not easy. (See attached 1978 Independence Day letter)
In 1992, federal justice Thomas Tang gave a very meaningful speech on racial discrimination. He said that United States law clearly opposes racial discrimination, but in practical life discrimination is evident deliberately or not deliberately. Discrimination against Asians has the longest and sharpest history. We Asians must resolve this problem and join together as a group to let society know this force cannot be dismissed. At the same time, we must strive to overcome with science and culture to achieve success in government and economy.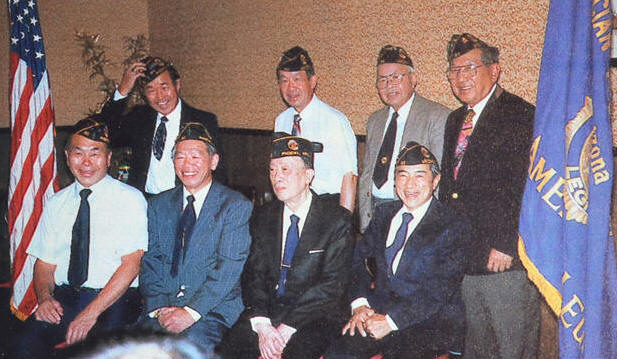 In addition to prominence in government and judicial circles, Thomas Tang is honored by having American Legion Post 50 named after him. In 1950, Thomas Tang was one of the 44 founding members of the post along with three Mexican-Americans. He died in 1995 at the age of 73.
4. America's First Chinese-American Mayor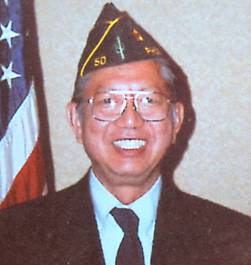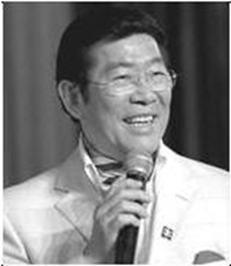 Peoria, AZ Mayor Edmund Tang (鄧達明 ) Cerritos, CA Mayor Dr. Daniel K. Wong (黃錦波)
If you were to search the internet to find out who the first Chinese-American mayorwa(Native American), no matter whether you search Yahoo, XinHua net, China net and other authoritative sites, including Chinese media, you would find Cerritos, CA Mayor Daniel K. Wong to be the first. Because his father .became a naturalized US citizen, he was a US citizen by birth. After graduating from high school in Hong Kong in 1961, he came to the US. In 1963, he enrolled at Utah School of Medicine and graduated with OB/GYN and Pediatric specialties. In 1978, Cerritos, CA had a recall election for city councilman, and Dr. Wong entered the race. Because of his youth, energy, and reputation , he was easily elected and served 14 years.
In 1988, he started a Chinese-English television station broadcasting Chinese programs to Chinese audiences. In 1989, because of the Tiananmen Incident, all news from the Chinese was censored, so he personally went to China. After returning to the US, he reported what he personally saw and heard to American audiences. He has been to Taiwan nine times to visit Pres. Ma Ying –jeou and other officials. In 1991, he took donated money and medicine from American-Chinese to aid flood-stricken southern China victims. He once rode on a raft to visit a flooded village. When there was a severe flood on the Yangtze River in China in 1998, he had a last will and testament written, expecting to not being able to return from flood relief. His heroic efforts were admired by the Chinese people, who called him the "Chinese Dragon under the Stars and Stripes" and "America's first Chinese mayor." However, was this person accurately named "America's first Chinese mayor"? History will determine this.
Peoria, AZ, situated near Phoenix, has an area of 388.9 sq.kms, and in 2011 had a population of 156,637. Edmund tang was elected mayor in 1979 and served until 1985. Mayor Tang was born in Phoenix on December 24, 1928 and had ancestry from kaiping, China. He graduated from Peoria High School in 1946 and then enrolled at Phoenix College and UC Berkeley. He graduated from the University of Arizona in 1951. From September 1951 to September 1953, he was in the US Army as a Food Inspection Tech and earned several medals. After his Army service, he returned to Phoenix to open a grocery store. He served as a board member of the Retail Grocers Association of Arizona and was awarded the National Grocers Association "Spirit of America Award."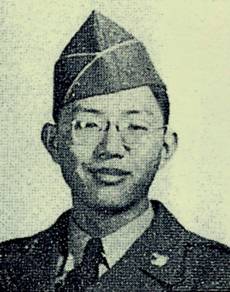 Edmund Tang in uniform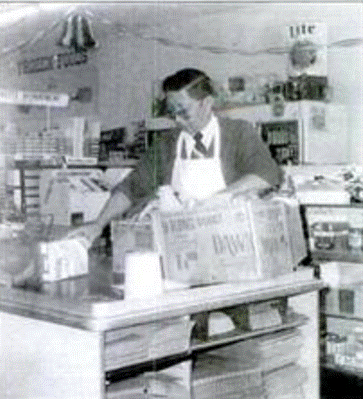 Ran a grocery store after military service
In 1955 Edmund Tang entered politics and was elected Peoria councilman and served 18 years. In 1979 he ran for mayor and was elected, serving until 1985. In the 1971 volume of Arizona's earliest Chinese-American telephone directory, there were only two Chinese families residing in Peoria. At that time, only whites and Mexican-Americans entered politics, and he needed to work much harder to succeed. In his 30 years as a public servant, he was a councilman, vice-mayor, and mayor, a record not easily matched by other Chinese-Americans.
During his term of service, he contributed greatly to this newly developed town ,pushed for new town governance, advocated new construction, a new municipal complex, and sports complex. He was a life member of Peoria's Chamber of Commerce and Kiwanis Club, and charter member of the Peoria Education Enrichment Foundation. After his 30 years of exceptional service, he received the honorary title of Mayor Emeritus of Peoria.
Edmund Tang also contributed greatly to the local Chinese community with his positions in Ong Ko Met Association, Arizona Chinese Chamber of Commerce, Chinese American Professionals Association, and other groups. He was also Commander of Thomas Tang American Legion Post 50 two terms. After retiring in the 90's, he continued to serve in the educational field, serving on the ASU Diversity Committee. Named to Phoenix College's Alumni Association Hall of Fame, he passed away on June 30, 2003.
Peoria is ten times larger in area than Cerritos and three times more in population. In comparison, Edmund Tang entered public service in 1955, Dr. Daniel K. Wong in 1978. Edmund became vice-mayor in 1972, Dr. Wong in 1978. Edmund was elected mayor in 1979 and served three terms, while Dr. Wong was elected mayor in 1983 and served two terms. Edmund was in public service 30 years and Dr. Wong 14 years. Therefore, whether considering start of service year, date of election to mayor, and years of service, Edmund Tang is more qualified that Dr. Wong to be considered "first Chinese-American mayor in America."
For a long time, Chinese internet sources such as chinaqw.com, xinhuanet.com, and people.com.cn considered Dr. Wong to be the first Chinese-American mayor in the US. In lunwencloud.com, People Magazine 2011 Seventh Edition said Daniel K. Wong was the first Chinese-American mayor in the US. China News Digest 2012 Vol. 4 said Wong changed America's Chinese-American political history. We believe that the writer, like us, if we researched Chinese sources, we would conclude Wong became the first Chinese-American mayor in the US, because all the sources said so.
However, if we look up English source Google to look up Peoria Mayor Edmund Tang information, we would see the facts as to who really was the first Chinese-American mayor in America. After I sent this information to CCTV 4 and other respective Chinese media, information saying Daniel Wong was the first Chinese-American US mayor was completely removed. Therefore, Overseas Chinese history depends on us to rectify and accurately record it. Otherwise, it will be forever portrayed inaccurately.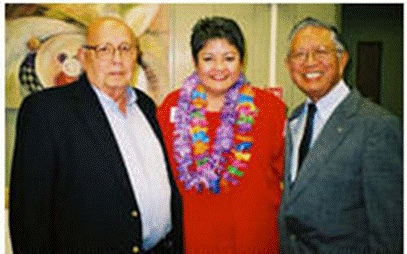 After retiring. Edmund Tang continued to serve in the field of education
5. Arizona Chinese Industrialist Walter Ong (鄧文華)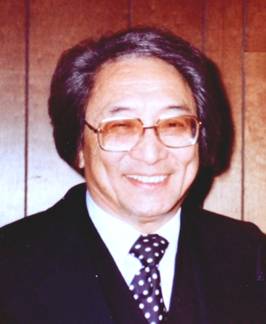 Walter Ong (鄧文華)
A Kaiping descendant, Walter Ong was born in Phoenix in 1915. In 1929, his parents sent him and his brother back to China to study. In 1934 he graduated from Puiching Middle school in Guangzhou and returned to America. In 1936 he graduated from Phoenix Union High School. Fluent in English, Chinese, and Spanish, this young man took over the grocery business from his mother and ran it for several decades. He owned Central Market, Tang Enterprises, Medical Arts Life Insurance Company, and other enterprises, becoming one of Phoenix's most famous Chinese-American entrepreneurs.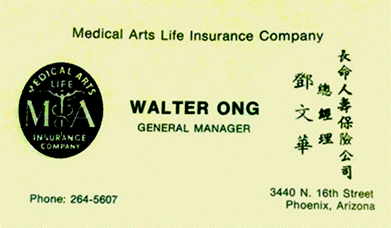 Walter Ong's Business Card (1970)
Walter Ong had a wide range of acquaintances, and was very active in both Chinese and western circles. In commercial ties, he enthusiastically participated in community affairs, joining various social and commercial groups and speaking for Chinese-Americans, gaining a prominent position in society. He worked diligently, was humorous, and enjoyed popular support. He held leadership positions in many important commercial interests and one of the founding members of the Retail Grocers Association of Arizona as well as its chairman. He was a board member of the Better Business Bureau and a pioneer in Chinese-American society. In the 1950s he was named Phoenix Man of the Year, a high honor for Chinese-Americans. In 1968 he was named Model Citizen or his contributions to Arizona business development. In 1989 he was included in the Arizona Grocers Hall of Fame. In 1993 he received the honor of Outstanding Man in Commerce.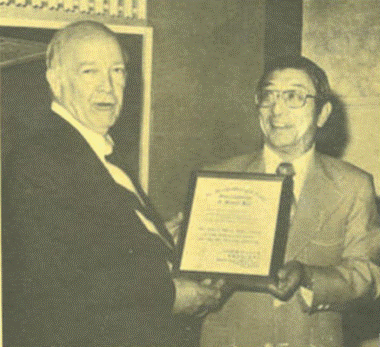 1977 Arizona Wesley Bolin Presents Award to Walter Ong
Walter Ong served as Chinese Welfare Council of America Vice-President and President of Chinese Welfare Council Southwest Area. In 1969, the Chinese Welfare Council of America held its Sixth National Convention in Los Angeles. Phoenix delegates Walter Ong and N.K. Wong with Tucson delegate B.C. Gee together petitioned the US Immigration Service to allow fiancées of Chinese-Americans to come to the US to marry. This was proposed to the US Congress, and Immigration Service Act 257 was passed and signed by President Nixon . This act became effective on May 10, 1970, greatly affecting Chinese immigration.
Walter Ong was a founding member of First Chinese Baptist Church and board member of the Phoenix Jaycees. In the Chinese community he was a founding member and sixth president of Chinese United of Greater Phoenix. He coordinated the Chinese-American community's celebration of America's 200th Anniversary and a founding member and president of the Chinese Welfare Council. He was also president of the Chinese Chamber of Commerce and Ying On Association. In order to nurture the following generations of Chinese-Americans, he earnestly supported the establishment and equipping of a Chinese school to benefit young Chinese.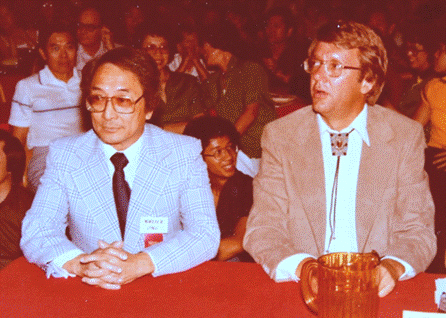 Arizona Gov. Bruce Babbitt and Walter Ong (1980)
Walter Ong served the Chinese community for many decades, and lon g-standing Chinese residents said that any Chinese striving to succeed in the grocery business was greatly assisted by Walter in getting a license, finding a location, borrowing money, finding resources and markets, and defending civil rights. No Chinese family, large or small, can forget his benevolence. For many years he helped resolve others' problems, and his adventures have not been matched. Therefore, he is considered by Phoenix Chinese circles as their "Godfather."
Walter Ong said, "I introduce capable young people to take over leadership roles in the community. I give them hope of an unchanging, peaceful and developed sense of service. The Chinese are a superior race, and I hope they will serve the Chinese people by entering state government and becoming governor." Walter Ong deserves being called the" Godfather of Phoenix Chinese-Americans."